students impacted AND COUNTING!
We've helped schools create better learning environments for more than 600,000 kids so far, and we're just getting started.
At Kay-Twelve, we don't just furnish classrooms. We improve education outcomes by facilitating collaboration and innovation between students and teachers within Better Learning Environments.
But our mission to improve education goes much further than the physical environment!
We've partnered with other organizations to meaningfully impact culture and leadership within education. And our podcast Better Learning Podcast brings these three areas together so that we are collectively working to better education for our learners!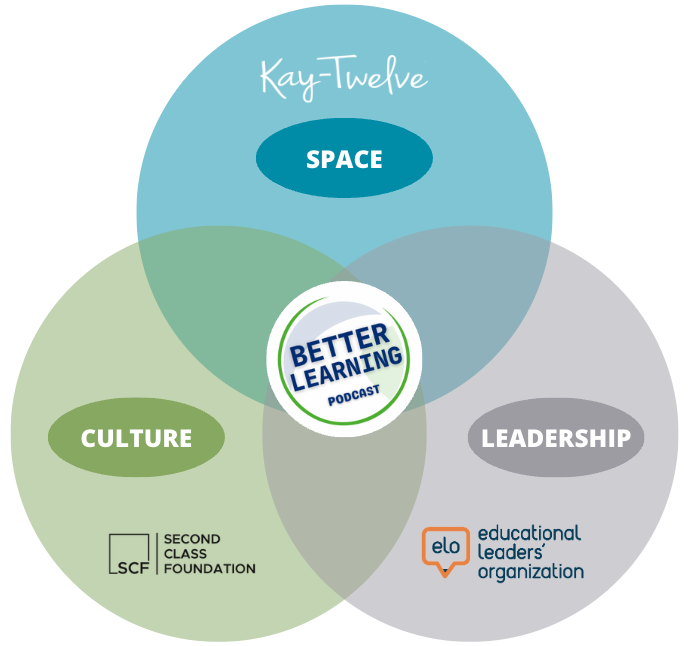 Learning environment design can impact a student's progress by up to 25% – positively or negatively.*
Learn More!
Impacting Education Spaces.
Kay-Twelve's mission is to create better learning environments and help students get the most out of their time in school. We achieve this by equipping schools with furniture and equipment that allows for a truly collaborative experience. Learn More.

Impacting Education Leadership.
The Education Leaders' Organization (ELO) is a national peer-to-peer network for school leaders to collaborate with colleagues nationwide. The network provides monthly cohort sessions that empower school leaders to share experiences, learn from each other, and grow personally and professionally. Learn More.
Impacting Education Culture.
Schools have been portrayed in the media the same for the past 40+ years. The Second Class Foundation aims to influence the portrayal of learning spaces in the media. Our projects impact current learning spaces and multiply the impact by sharing entertaining and meaningful stories throughout the media. Learn More.
Bringing It All Together.
The Better Learning Podcast brings it all together! We interview changemakers, school leaders, designers, and industry leaders on a variety of topics that tie space, leadership, and culture together. Listen to the Podcast!
of the jobs that kids currently in kindergarten will do as adults don't even exist yet. We don't know what the future holds, but we know they'll need to...
* Barrett, P.S., Zhang, Y., Moffat, J., and Kobbacy, K. (2013). "A holistic, multi-level analysis identifying the impact of classroom design on pupils' learning." Building and Environment, Vol. 59.