Meet Your Kay-Twelve Interior Designer!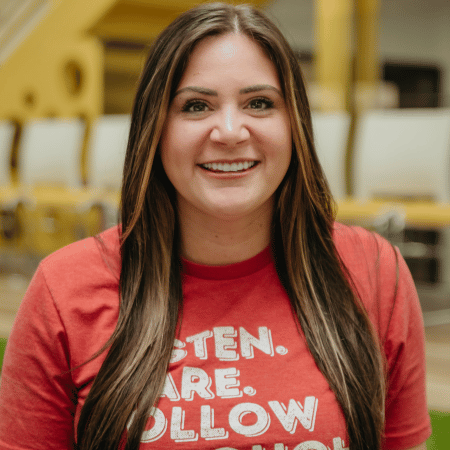 Betsy graduated from Central Michigan University with Bachelors Degree in Interior Design and Professional Sales. She recently got married in September of 2020 and currently lives in Grand Rapids, MI with her husband. When Betsy isn't working, she likes to go hiking, rollerblading, making crafts, and trying new beers around Beer City USA. With both parents, and multiple family members in education, Betsy felt it was only natural for her to design for education as well. "My parents said their favorite part of being an educator is watching their students get their "Ah Ha" moment in the midst of their studies, so it's really fun for me to be able to design educational spaces that help students get to that moment."
Betsy Andrusiak
Interior Designer
bandrusiak@kay-twelve.com
888-624-5451 Ext. 45
Please select a time to meet me to receive your customized game plan!
Mount Desert Island High School

"I wanted to let you know how much I appreciate all the work you did in designing the learning environments at Clara Brown Academy. You did an AMAZING job and all the children, staff and parents love all the colors. You're a Rock Star Betsy, thank you for all of your hard work!"
Martha Story
Business Development Manager
MooreCo, Inc.
Temple, TX
Dohn Community High School

"Steven is a great example of a Community Connector. In a feat of complex logistics, he facilitated a donation of 400 school desks to Dohn from another Kay-Twelve.com customer. This other local high school purchased new desks for the 2020-2021 school year. Seeing the need and seizing the opportunity, Steven asked the school if they would donate the used desks to Dohn. The school graciously said yes, and Steven facilitated the delivery."
Diana Puppin
Marketing & Branding Coordinator
Dohn Community High School
Cincinnati, OH

"Kay-Twelve will be my first choice every time for classroom and school furniture purchasing. The quality of product lines and color varieties Kay-Twelve offers are top-notch. The entire process from ordering samples to delivery of over 200 items was seamless. This process was the only thing in planning for social distance learning that did not cause me stress."
Carmen DiSanto
Business Manager
Falmouth Academy
Falmouth, MA
Your regional Educational Design Specialist (EDS) will be your guide and single point of contact throughout your new build or renovation project.
Meet Your EDS!
Behind every regional EDS is a dedicated project manager, interior designer, and marketing team that will work hard to make your school's project a success.
We collaborate with the premier educational manufacturers to provide you with the best possible learning environments for your students.
View Collections.