Meet Your Local Educational Design Specialist!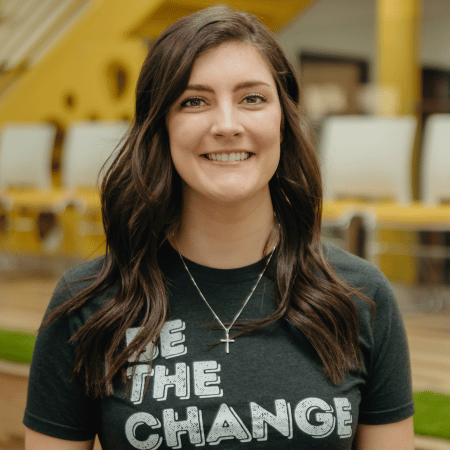 Keirsten joined the Kay-Twelve team in 2018 with over 5 years of experience in the school furniture industry. She is from Louisville, Ohio and is married with two young children. She enjoys watching her son and daughter play sports, staying active at her local gym, and watching live music with her husband. Keirsten started working in the school furniture business after high school and has found a passion for helping schools create better learning environments to encourage student focus and inclusion through the furniture and tools they use.
Keirsten Todoran
Educational Design Specialist
ktodoran@kay-twelve.com
888-624-5451 Ext. 33
Kay-Twelve Projects Near Keirsten
Alturas International Academy

"First and Foremost, I want to express what a positive experience we had working with Keirsten Todoran at Kay-Twelve. The customer service was outstanding and the minimal problems were always solved quickly and effectively. I would encourage you to look at our website at Alturasacademy.org and go to Alturas Preparatory Academy to see the design of our school that Keirsten was so instrumental in creating. It is beyond creative and highly supports our instructional model. We are beyond thrilled with our experience and highly recommend Keirsten and
Kay-Twelve."
Michelle Ball
Executive Director and Co-Founder
Alturas International Academy
Idaho Falls, ID

"Keirsten and her team were extremely helpful in finding the right products that fit within my budget. Kay-Twelve was diligent in finding the solutions to fit our needs...not just trying to sell product like many other vendors. Their ideas and suggestions have helped our district upgrade our spaces to a 21st century learning environment. Kay-Twelve employees communication has gone above and beyond expectations."
Brenton Guy
Facilities Director
Grant Career Center
Bethel, OH
Mount Desert Island High School

"I have been in a position to address ordering for the last twenty years for large and small schools. In that time, I cannot recall having ever had someone who was more creative and attentive in their support of client interests. I know how valuable it is to have someone that takes the sort of care and has the attention to detail that Keirsten displayed. Her work is worth special commendation."
Mark Arnold
Educational Technology Director
Mount Desert Island High School
Bar Harbor, ME

"For the past year Keirsten Todoran and her team from Kay-Twelve have been working with me and our district to develop a custom fabrication lab space in our high school. Their professionalism, flexibility, and creativity have helped make a rough idea a beautiful reality. We are very impressed with our outcome and are so thankful that we found Keirsten and her team.
As the director of the space I relayed our wants and needs to Keirsten and her team and they designed a completely custom space for us from their product line. They were always very open to changes and had great advice from their past experiences on what works well in our specific space. Throughout our process we had many emails, meetings, revisions, custom designs, models, and assembly all through Keirsten and Kay-Twelve. They took care of everything and were great at getting us replacements when a few items got damaged in shipping.
Robert Turner
Fab Lab Director
Omro High School Fab Lab
Omro, WI

"Keirsten has helped us to source furniture for over 50 schools in the NYC area over the past couple of years. Her customer service and response times are precise, efficient, and thoughtful. Keirsten consistently goes above and beyond to find exactly what our clients need, coming up with creative solutions whenever necessary. She is also extremely reliable and detail-oriented. We really couldn't ask for a better representative and hope to work with Kay-Twelve and Keirsten for many years to come."
Eva Chertow-Spence
Operations Manager
NY Sun Works
New York, NY
Montezuma Community School District

"Working with Keirsten and Kay-Twelve to create a new updated learning space in my classroom turned a daunting experience into an enjoyable one. I started my initial conversation with an outdated and bulky classroom and a desire to turn my classroom of the past into a modern and flexible classroom and Keirsten immediately provided a handful of resources and was able to provide affordable options to make the most of my space. From emails to phone calls, I always felt my needs in communication were put first and my concerns were not just read, but valued. I've recommended Kay-Twelve and Keirsten to other staff members looking for modern new classroom furniture and will continue to return back for another great experience in the future."
Kevin Gartman
Lead Teacher
Montezuma Community School District
Montezuma, IA
St. Lorenz Lutheran School
"Kiersten was very responsive with every question I had (and I had a lot!). I never had to wait long for an answer. Also, I appreciated that she worked within the budget I had given her even though it required a lot of reworking of designs."
Stephanie Baarck
Junior High Teacher
St. Lorenz Lutheran School
Frankenmuth, MI

"Kay-Twelve will be my first choice every time for classroom and school furniture purchasing. The quality of product lines and color varieties Kay-Twelve offers are top-notch. The entire process from ordering samples to delivery of over 200 items was seamless. This process was the only thing in planning for social distance learning that did not cause me stress."
Carmen DiSanto
Business Manager
Falmouth Academy
Falmouth, MA
Schedule a Collaboration Session With Keirsten
Your regional Educational Design Specialist (EDS) will be your guide and single point of contact throughout your new build or renovation project.
Meet Your EDS!
Behind every regional EDS is a dedicated project manager, interior designer, and marketing team that will work hard to make your school's project a success.
We collaborate with the premier educational manufacturers to provide you with the best possible learning environments for your students.
View Collections.