Meet Your Local Educational Design Specialist!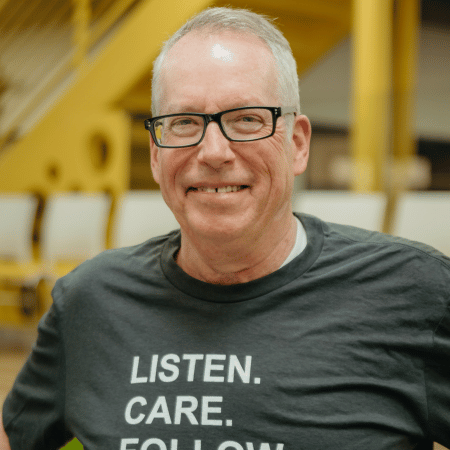 Bob has been with Kay-Twelve since 2015 and came to us with 30+ years in the industry. A graduate of Temple University, Bob is married with 2 kids. A committed baseball, basketball, and soccer coach as his kids were growing up, Bob is now able to spend time enjoying golf and music. With Bob's commitment to learning, he feels strongly that "creating a collaborative learning environment will help students improve their ability to learn and retain information. By discussing topics with their peers, they hone their ability to work their way through problems, communicate their ideas more effectively and also value the opinion of others."
Bob Roche
Educational Design Specialist
broche@kay-twelve.com
888-624-5451 Ext. 29
Please select a time to meet me to receive your customized game plan!
School District of Philadelphia

"My local sales rep Bob Roche exemplifies the Kay-Twelve mission and values. It's a pleasure to work with him. Kay-Twelve is a long-term vendor/client relationship providing good services throughout the district."
Mary Lee, M.Ed, ALEP
Educational Facilities Planner
School District of Philadelphia
Philadelphia, PA
Norwood-Fontbonnie Academy

"Selecting our schools lunch tables were made easy with the help from Bob Roche. Bob showed us the different styles, colors and materials. The tables were delivered as scheduled. I would definitely recommend Bob at
Kay-Twelve."
Chuck Dotzman
Business Manager
Norwood-Fontbonnie Academy
Philadelphia, PA

"I have met with Bob Roche several times over the past few years when needing a furniture consult. He is always professional, knowledgable and courteous. He always follows up after every meeting. I always receive any information needed in a timely manner. He never keeps me waiting without an explanation."
Jeanette Codrington
School Operations Officer
Universal Companies
Philadelphia, PA
Your regional Educational Design Specialist (EDS) will be your guide and single point of contact throughout your new build or renovation project.
Meet Your EDS!
Behind every regional EDS is a dedicated project manager, interior designer, and marketing team that will work hard to make your school's project a success.
We collaborate with the premier educational manufacturers to provide you with the best possible learning environments for your students.
View Collections.