Meet Your Local Educational Design Specialist!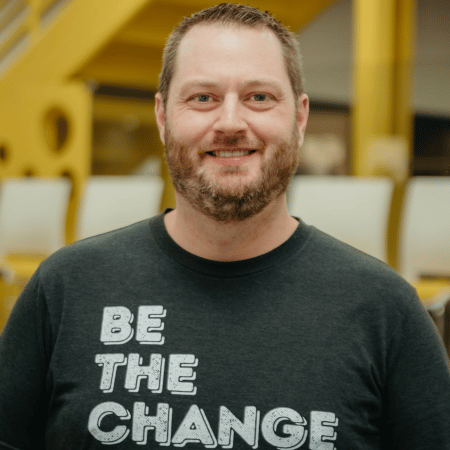 Aaron comes to Kay-Twelve with over 7 years in the industry specializing in new construction and renovation projects. He lives in San Marcos, Texas with his wife, Natalie, three dogs, Bailey, Daisy, and Paisley, and hedgehog, Kirby. In his free time, he enjoys traveling, trying new recipes in the kitchen and learning about wine. Aaron comes from a long line of educators and has found his passion in having an impact on learning environments. Aaron focuses on establishing collaborative relationships with various stakeholders to identify the best solutions that help facilitate the implementation of a given curriculum and instruction plan. In 2020, he became an Accredited Learning Environment Planner (ALEP) through the Association for Learning Environments (A4LE).
Aaron Evans, ALEP
President
aevans@kay-twelve.com
(512) 755-1862
888-624-5451 Ext. 43
Please select a time to meet me to receive your customized game plan!

"We were so excited to work with Kay-Twelve. [We were able to] order the most innovative, flexible seating, and new age furniture for this library and create an environment that every kid can love!"
Brandi Sutton
Principal

Tool Elementary School
Tool, TX
Read More on Tool Elementary School in our article The Storm That Brought Tool Elementary a New Library.

"Kay-Twelve will be my first choice every time for classroom and school furniture purchasing. The quality of product lines and color varieties Kay-Twelve offers are top-notch. The entire process from ordering samples to delivery of over 200 items was seamless. This process was the only thing in planning for social distance learning that did not cause me stress."
Carmen DiSanto
Business Manager
Falmouth Academy
Falmouth, MA
Your regional Educational Design Specialist (EDS) will be your guide and single point of contact throughout your new build or renovation project.
Meet Your EDS!
Behind every regional EDS is a dedicated project manager, interior designer, and marketing team that will work hard to make your school's project a success.
We collaborate with the premier educational manufacturers to provide you with the best possible learning environments for your students.
View Collections.